Block advertising, tracking, telemetry, malicious domains and more...
Free DNS - with DoT, DoH
How to setup - 5min ⏱️
OpenBLD.net Intro
Be yourself, be focused
OpenBLD.net is a service designed to minimize Internet noise such as advertising and tracking, allowing you to be yourself and stay focused while surfing the Internet. And of course you can Help Us
Get in a better way to work online.
Without agents and without software installs.
Works on mobile devices and browsers
For personal usage, home and small business
Reduce browsers memory and CPU usage
Reduce potentially Information Security Risks
Unlimited access with 100k+ queries per day

Service lives thanks to your help. Help us to improve this advantages. Get benefits from Donations
Adaptive DNS
ADA - Adaptive DNS: Fast and Flexible Internet surfing with Social Networks, Google, Microsoft, Yandex and etc. services
Restricted DNS
RIC - Strict DNS: Blocks many marketing and tracking resources, which may affect access to certain internet content
Mobile Devices
Android, iOS, iPad devices. Just setup "Private DNS" on Android ada.openbld.net or download profile for Apple devices.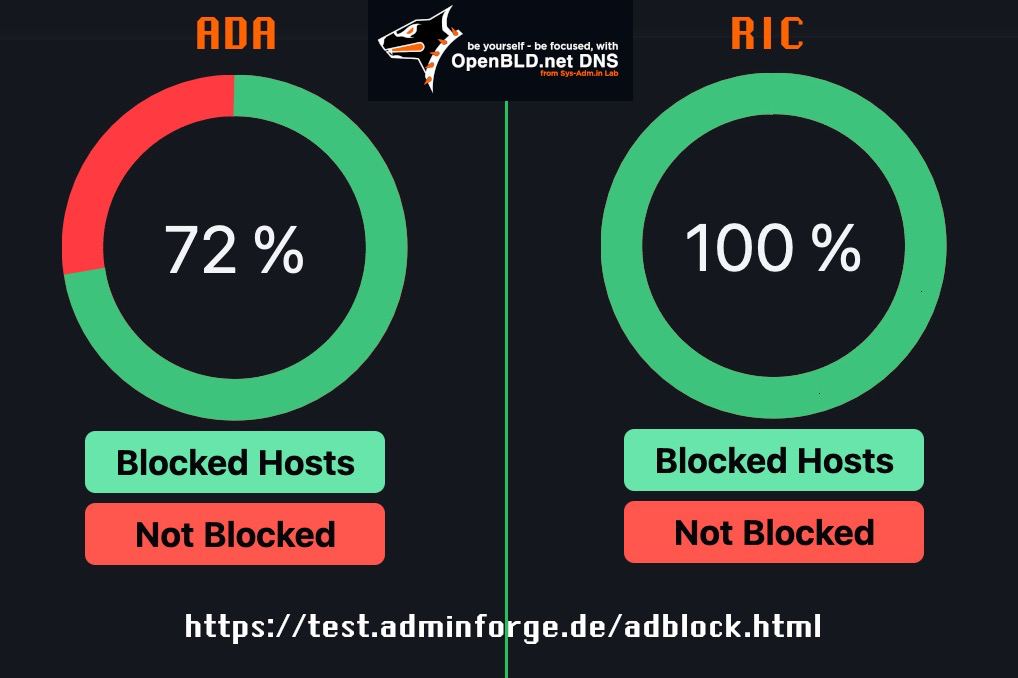 Feature
Let's to

reduce

your traffic!

Increased battery life and reduced CPU load. With:
+ who helps to the growth 🚀
~~~
Thanks for Support and Donations! 🌟
~~~
PilgrimZero (testing)

Pak_DV (testing)

Greg (testing)

George.K (testing)

Slava.V (testing)

Simon.W (testing) 💪

Sergey.M (testing)

Anatoly (testing) 💪⚡

V B (testing)

Alibek.B (testing)

Dmitry (testing)

Egor.Y (testing)

Oleg (testing) ⚡

Not Saint (testing, hosting) 💪

Elizaveta M (contribute)

Gregory Z (contribute) 💪⚡

Alexandr Bespoyasko (contribute) ⚡

VadimML24 (contribute) ⚡

El (testing) 💪⚡

Bessmertnyi_poni ⚡☀️

Roman G. ☀️

Andrei (werlock) ☀️

Клён 🌳 (ArtloopTeam) 🚜 ☀️

Seke t.me/asbisKZ ⚡ 🚜 ☀️

Alexander G ☀️
Legend: 2021> Contributor Name. 2022> Testing: 💪 Contribute: ⚡. 2023> Feedback: 🚜 Contribute: ☀️